Exhibitions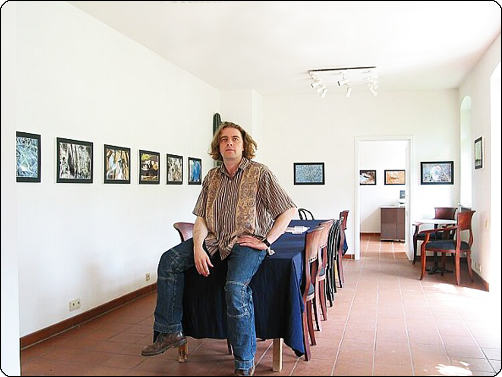 Robert Halamíček
born on September 11th, 1964 in Nový Jičín (Czech republic)
1984 – 1989 Faculty of Natural Science of Charles University Prague, applied geophysics
May 1989 – take-off to the exile (Germany, Nürnberg)
Exhibitions
June 2002 - Kunst-Pavillon, Fürth, Germany, joint exposition
September 2002 - Schwarzenberger Herbst, Münchsteinach, joint exposition
September / October 2002 - Weinerei, Nürnberg, Germany
December 2002 - Kunst-Eck, Nürnberg
April / Mai 2003 - Josef Sudek Gallery, Prague
October / November 2003 - St. Martin, Fürth, Germany
September / October 2004 - Communication room, Prague
October / November 2004 - Prager Haus, Nürnberg, Germany
November / December 2004 - Der internationale Zirkel, Bayreuth, Germany
February / March 2005 - IGZ Bamberg, Germany
October 2005 - Czech Center Munich, Germany
15. October 2005 - The Long Night of Munich' Museums
February / March 2006 - Police Museum, Prague
March 2006 - Stil Bamberg, Germany
October 2006 - Stil Ulm, Germany
November 2006 - Stil Rosenheim, Germany
June - August 2007 - Consulate General of the Czech Republic in Munich
September 2007 - Gregor Samsa´s Café and Bookstore
April 2008 - Zoo Prague
April / Mai 2008 - Botanic Garden Prague
November 2008 - January 2009 CZECH PRESS PHOTO 2008, Old Town Hall, Prague
March 2010 - Botanic Garden Prague
November 2011 - January 2012 CZECH PRESS PHOTO 2012, Old Town Hall, Prague
March / April 2012 - Artefakt, Nürnberg, joint exposition
Oktober / November 2012 - Café Express, Nürnberg, joint exposition
January - March 2014 - Galerie im Lichthof, Nürnberg
March - Mai 2014 - Galerie Röver, Nürnberg, joint exposition
November / December 2015 - Kater Murr, Nürnberg, joint exposition
July / August 2016 - Gregor Galerie, Nürnberg
March - Mai 2017 - Galerie Röver, Nürnberg, joint exposition
August 2016 - September 2017 - Freiluftgalerie, Hersbruck, joint exposition
List of clients:
Günter Gloser
Eva Homrighausen
Canon CZ
Goverment of Czech republic
Fürth City
ZOO Prague
Sponsors
Robert Halamíček´s Photos
What is that? Deep rivers, azure blue something, out of which paradises and abysses are made from? Sea bays or blue horizons, necessary to be nested into, which reach far away - up to the land of nowhere? Crystalline substances? Something, which has never been here before, or at least has not been seen in this way, captured only by a new and distinctive angle of view? What is that, actually?
Photographer Robert Halamíček brings us up almost visionary views of microstructures, which can be found in the nature, but at the same time function as abstractions, hiding into the diversity of the light reflections and materials. But their designation can never be identified. As if they were views from the window, which opens us among others the old question about the substance of the space or of the living environment, in which we find ourselves. What is this, life? Everything is possible, every opinion or fantastic interpretation, but nothing is certain. All obvious excludes itself, basically has not chance.
It is not fundamental, what are the photographs about, says the artist, important is the existence of those subjects, their curiously beautiful structure, which is necessary to discover. It is photographically captured poetry of "ordinary" subjects, which Halamíček formulates and by means of his microscopic view detaches out of those galaxies of profiles and forms the nature brims over with. Whether they are bark of the trees, frozen mire or frogspawn, in his pictures they reach a new aesthetical dimension.
Halamíček´s photographs act as detailed or overall snapshots of kaleidoscopic eternity, although at the same time also as dark irritations, outshined beauty and digital drawings of high plasticity.
Barbara Bogen, Bayerischer Rundfunk (translated by Jiří Plešek)